Knut Nystedt was primarily a composer. With his works for choir, orchestra, organ, string quartet and other ensembles, Nystedt was one of the most central Norwegian composers in the last century.
In addition he also had several other occupations and positions in Norway, such as conductor, organist and teacher. His work also led him to other parts of the world, especially the USA.
Conductor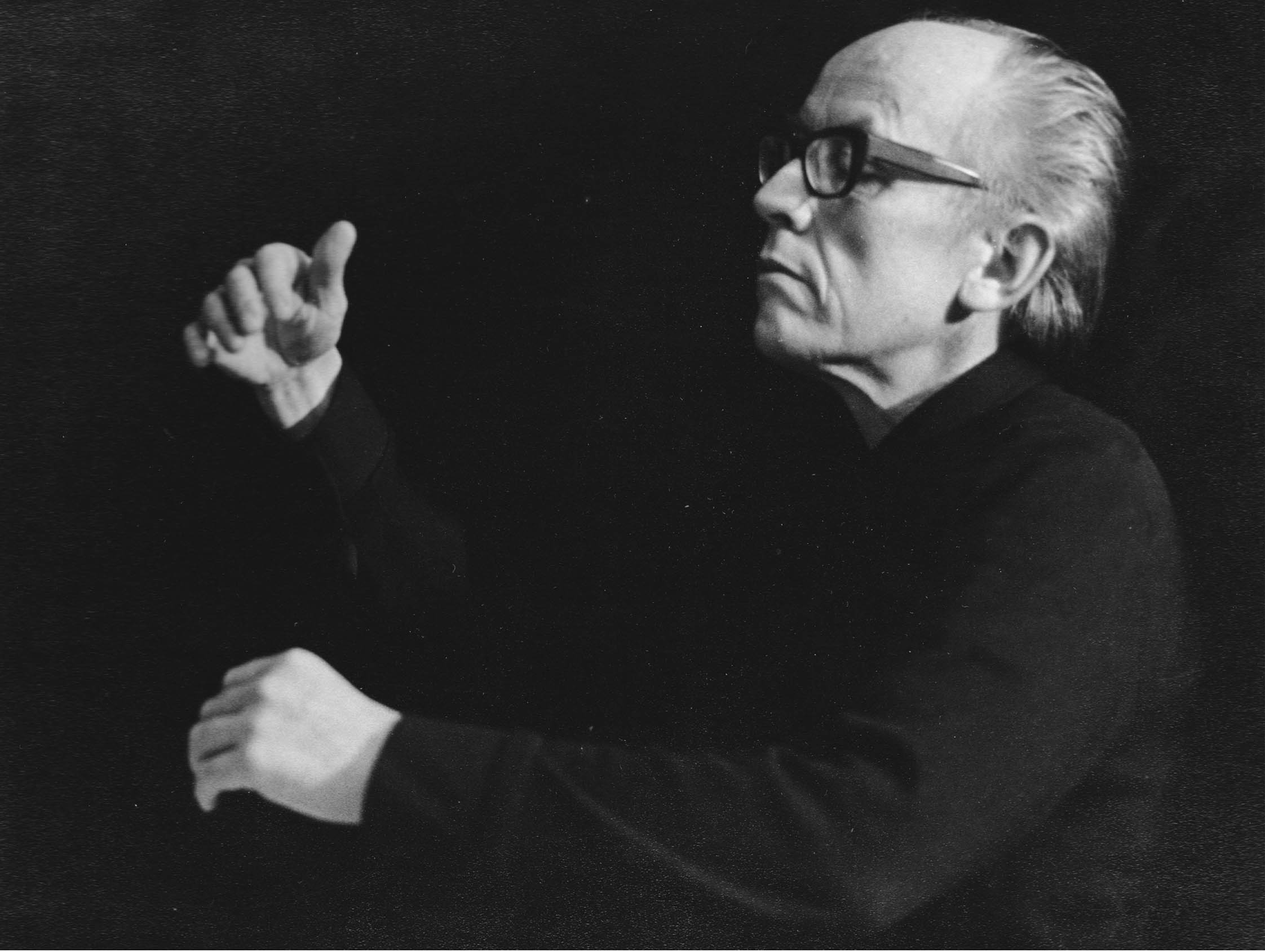 In 1950, Knut Nystedt founded The Norwegian Soloists' choir, which he conducted for 40 years, giving concerts and touring around the world. He also founded and conducted Schola Cantorum, the choir of the Oslo University from 1964 to 1985. As organist, he conducted several church choirs, mostly in Torshov church in Oslo. He also conducted several orchestras, and was engaged as guest conductor for the Oslo Philharmonic Orchestra.
Olavsguttene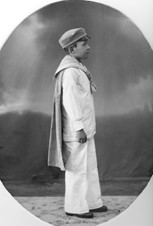 His first contact with choir was through "Olavsguttene", a boys' choir lead by Rangvald Bjarne. Here he started as a soprano at the age of 12 and had several soloist roles. This introduced him to the classic choir repertoire, and here he got his musical foundation which set the musical course of his life. When Ragnvald Bjarne retired, Knut was asked to take over the choir, but he didn't see that a boys' choir was a task for him. He also sang in "Landskoret" and "Oslo Philharmonic Choir", but soon it was apparent to him that choir conducting should be his future profession.
Lillestrøm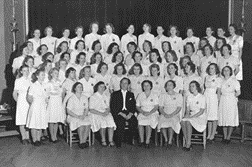 His first jobs as a choir conductor were in the small town of Lillestrøm just outside of Oslo. Here he conducted the male choir (Fagforeningens mannskor) for 15 years, the female choir (Lillestrøm damekor) for 10 years, and the church choir for two years. His Lillestrøm career was during the Second World War and a few years thereafter.
Hanche's choir
This choir performed several oratorios, masses and larger works, together with orchestras such as The Oslo Philharmonic Orchestra and others. He conducted this choir for 9 years.
Torshov Church choir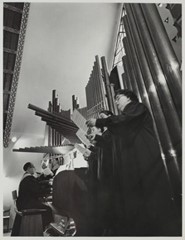 As a part of his work as organist in this church, he performed 202 concerts, most of them with this choir. The Torshov Church choir also attended weekly church services. He founded this choir in 1955, three years prior to the building of the current church. This choir also had first performances of most of his motets and other church music for choir.
Orchestras

His first assignment for conducting orchestras was with the YMCA-orchestra "Arioso" in Oslo, both during the Second World War and afterwards, for a total of 11 years. During the war, he also conducted "Kontorfunksjonærenes orkester" for two years. As a guest conductor, he conducted the Oslo Philharmonic Orchestra and several other orchestras.
Scola Cantorum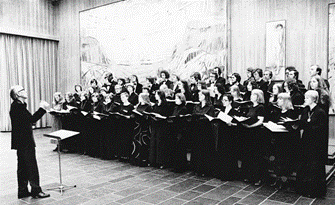 As a part of his work in teaching choir conducting at the University of Oslo, he founded the university choir in 1964 and conducted it for 21 years. With this choir, he toured England, Scotland, Germany, Czechoslovakia, Iceland and several tours in Norway. The students in this choir were challenged by the repertoire of contemporary music such as Litani in Atlanta by Gunnar Sønstevold among other classical works as the St. Matthew Passion by Bach. Both of these works were broadcasted on Norwegian TV.
The Norwegian Soloist's Choir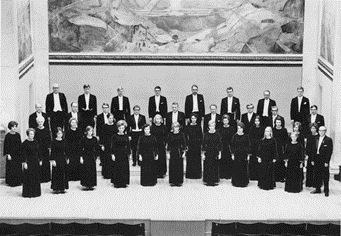 In 1949, the idea of creating an elite choir in Norway was fostered by "Norsk Solistforbund". Knut Nystedt was asked to establish such a choir, which he did the year after. He conducted this choir for 40 years. This choir was, and still is, the leading choir in Norway, performing the most difficult music. He led this choir through numerous tours around the world; Israel, China, Korea, Japan, Thailand, three times in the USA (with a total of 72 concerts), and several countries in Europe. In Norway the choir attended the Bergen Festival seven times and held numerous concerts in Oslo. With this choir he could experiment with his own compositions, and they also gave several first performances of contemporary music by both Norwegian and international composers. They have also made several disc recordings.
Judge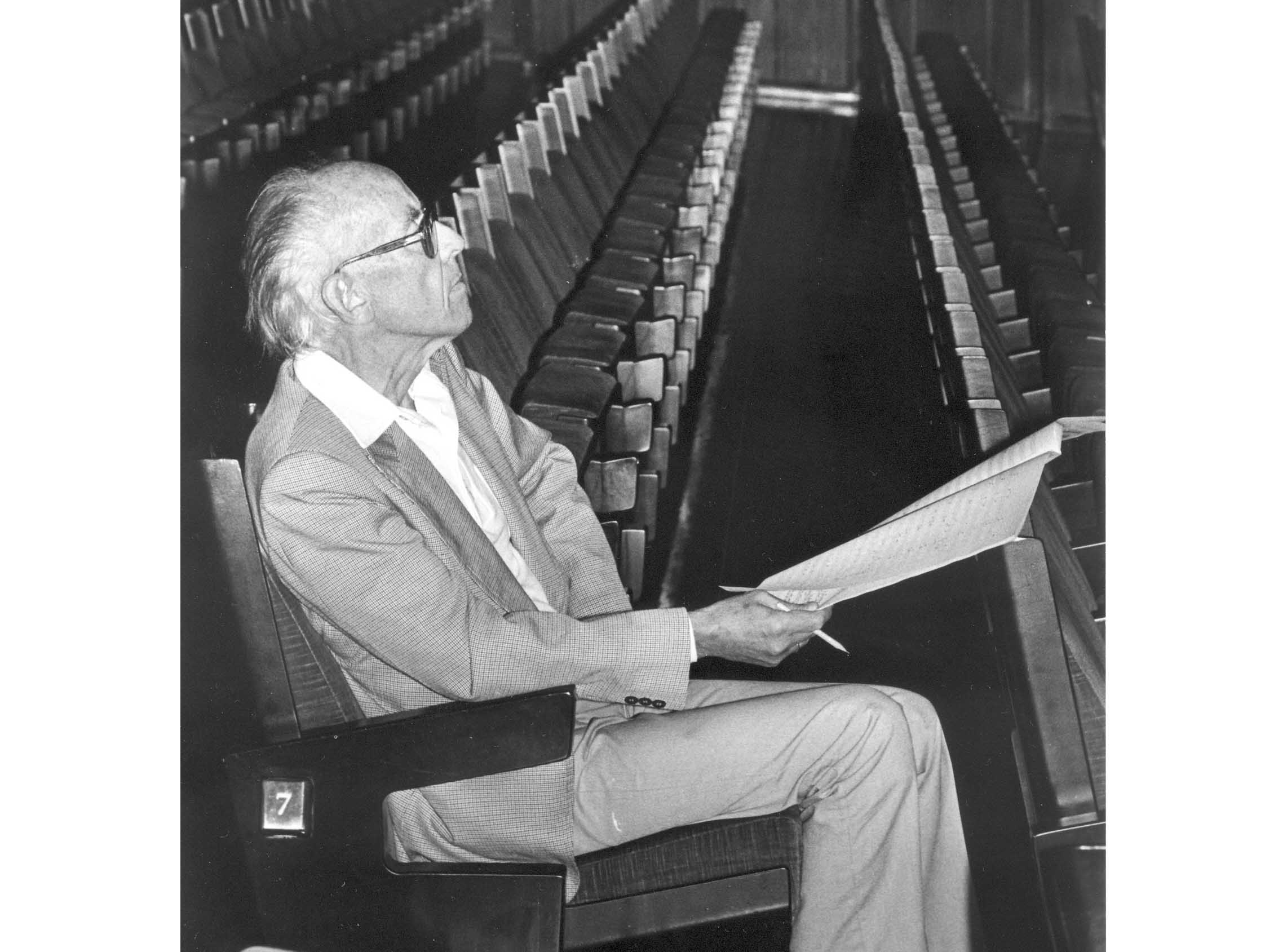 Because of his central role in Norwegian choir music, he was considered to be one of the country's best experts in these matters. Therefore, he was asked to judge many choir competitions: April 1962: Long Beach, Los Angeles, USA May 1992: Norwegian TV (NRK) choir competition for youth choirs June 1993: Choir competition "Syng for oss" in Grieg- hall, Bergen, Norway July 1993: Llangollen International Music Eisteddfod in Wales, UK July 1994: Takarazuka International Choir Contest, Osaka, Japan July 1997: Llangollen International Choir competition, Wales, UK
Consultant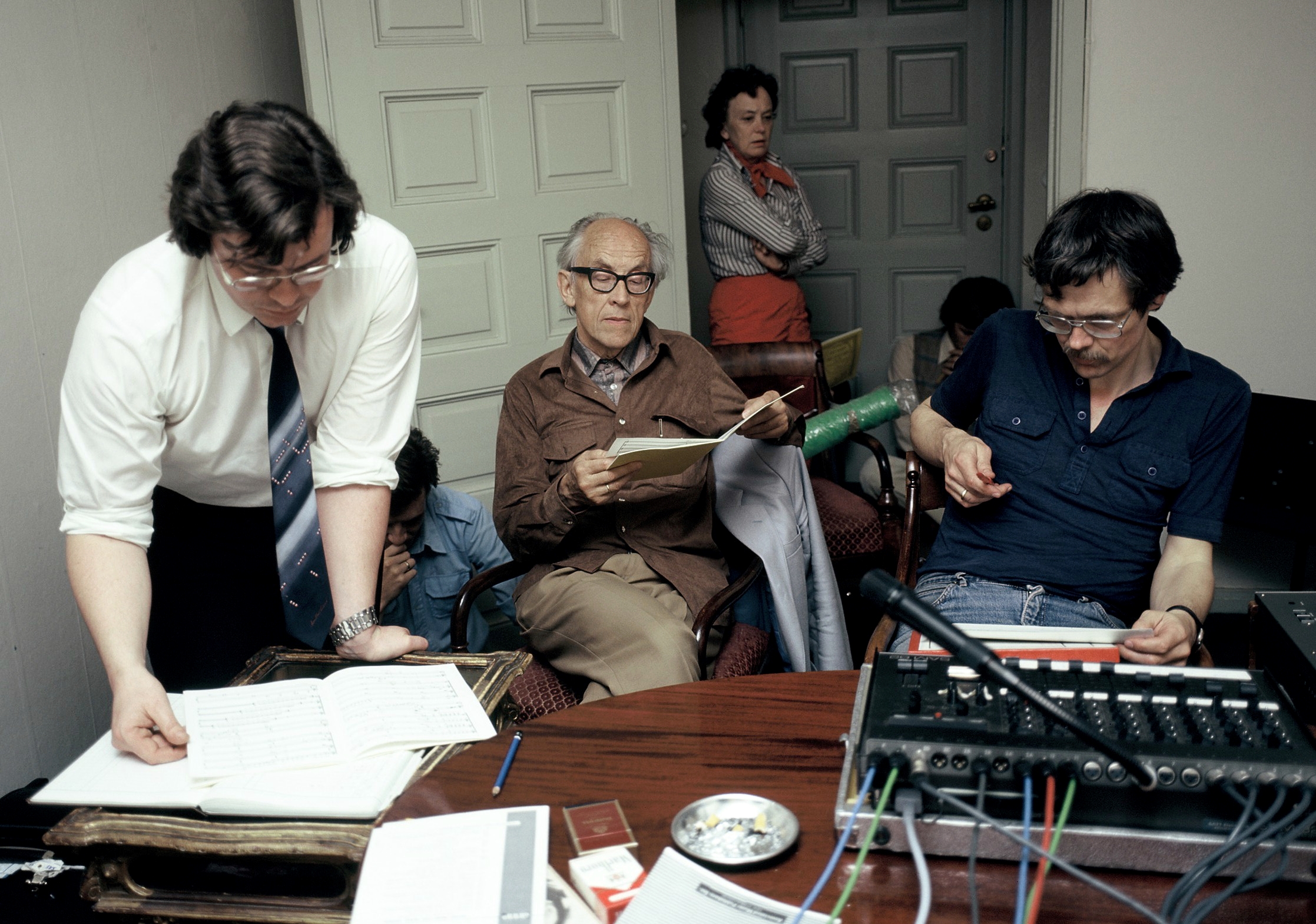 Knut Nystedt was musical supervisor for record companies in connection with the Norwegian Soloist's choir´s record productions.
Organist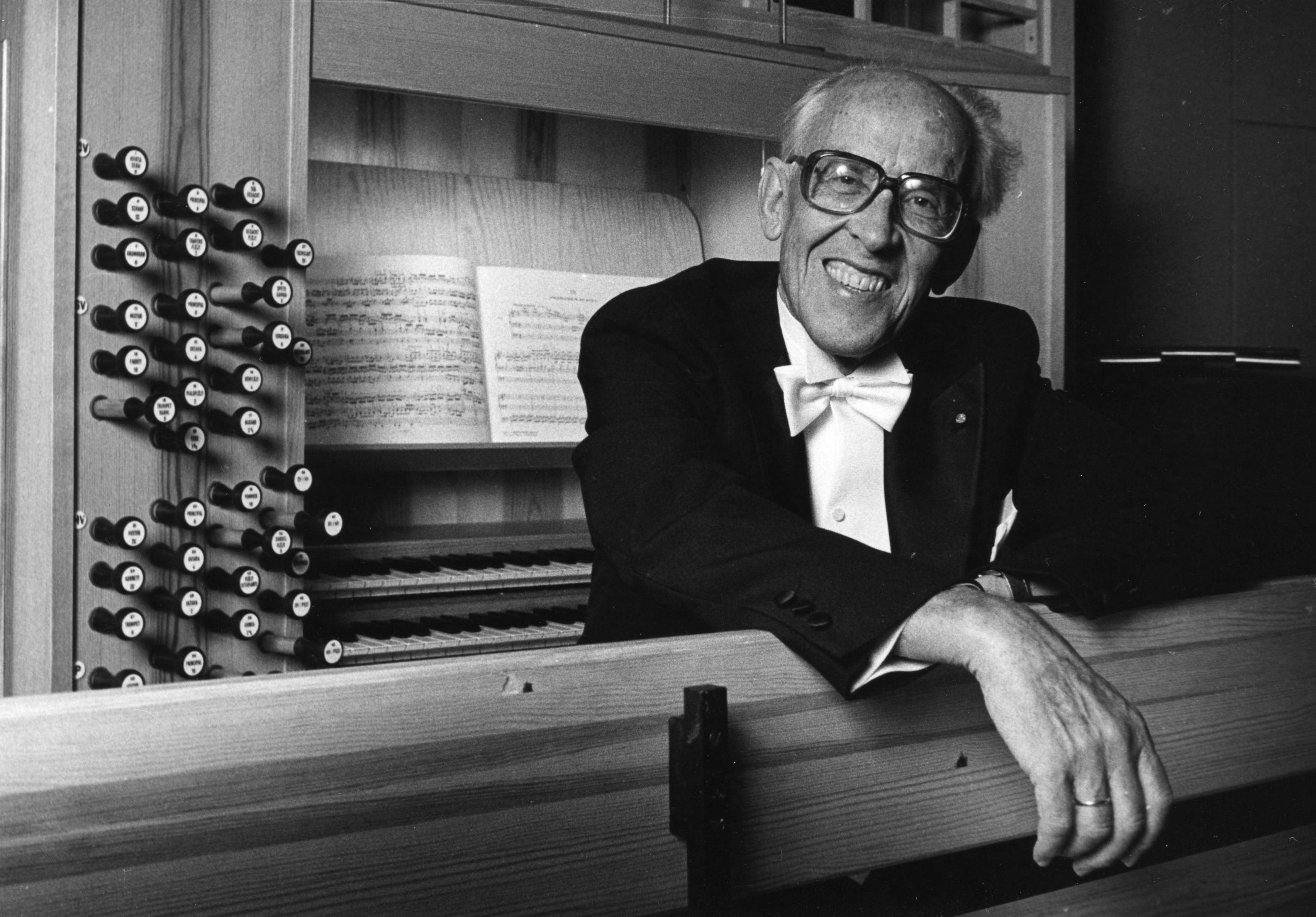 Knut Nystedt's primary organist career was in Torshov Church in Oslo where he worked for 27 years, from 1955 to 1982. In addition to church services, he had more than two hundred church concerts, both organ recitals and concerts with the Torshov church choir. He also performed organ recitals (concerts) in Scandinavia and the USA. In his early years he also worked as an organist and conducted church choirs in several other churches. He tutored piano students as well.
Studies
Knut started taking piano lessons when he was nine years old. His father played the violin in an amateur string quartet, and they often needed a piano to their repertoire. So, Knut stepped in. At the age of 12, he took lessons at Musikkonservatoriet in Oslo (later: Norwegian Academy of Music). Soon he switched to the organ, where he studied under Arild Sandvold for ten years. For his organ exam he played Prelude and Fugue in E minor by Bach. He got a top grade.
His debut concert in the Oslo Cathedral was in April 1938, but he still continued studying piano with Reimar Riefling (1937-39). In the Oslo Concert Hall (Universitetets aula) he performed Bach's C minor concerto.
He had several performances, he was asked to assist on organ at Queen Maud and King Haakon's funerals, and collaborated in "Faust" by Gounod at the Norwegian National Theatre. He also had radio performances and toured with organ concerts throughout Europe and the USA.
Positions as organist
His first organist post was in the Mission church, Bethlehem, in Oslo where he started in October 1932. Frank Mangs led a great revival in this church, and Knut often played Bach's preludes at these meetings.
He also worked for some years (1937-41) as organist in the Elin Methodist church in Grønland, Oslo.
And in September 1938 he was employed as organist in Lilleborg church. During the Second World War he also played at the Akershus fortress every Monday for Norwegian prisoners arrested by the Nazis.
His position at Lilleborg was from 1946, while at the same time he was working at Torshov old church and started leading the choir there from 1955. Torshov church was built in 1958. He then terminated his work at Lilleborg, and played solely in Torshov.
Torshov Church
When Torshov Church was built in 1958, Knut worked as organist, and he continued until 1982. In addition to playing at services, weddings and funerals, he had 202 evening concerts there, both as organist and conducting his church choir. He was consultant and advisor for the organ that was built in the church.
He also was a consultant for other organs constructed in Oslo.
Teacher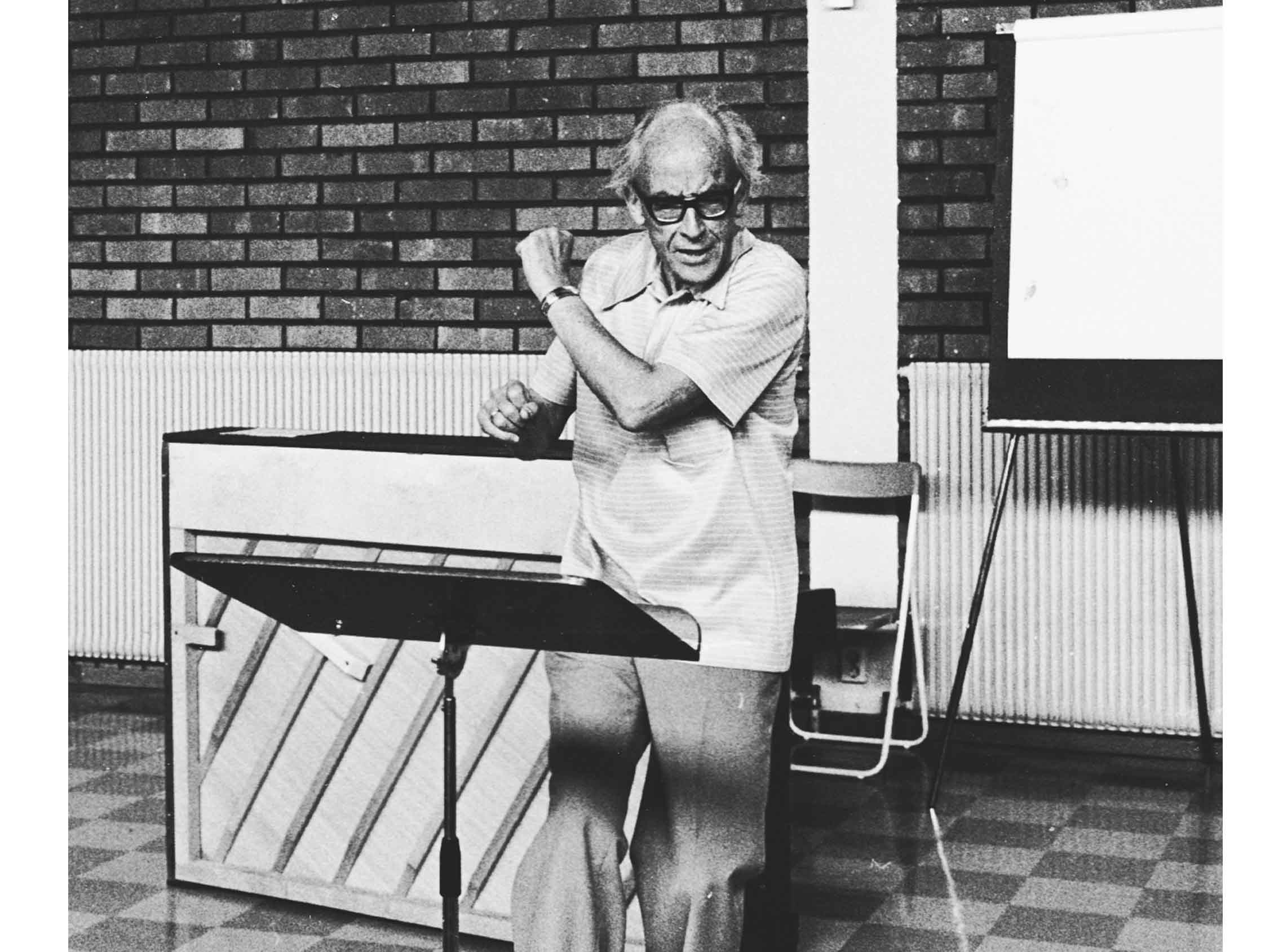 As a teacher, Knut Nystedt's main contribution was in choir conducting at the University of Oslo from 1964 to 1985. He was a guest lecturer and held choir workshops at several universities and colleges in Europe, USA, Japan and Argentina. In addition, he was a lecturer for one year in the USA.
Knut Nystedt played an active role in educating students in choir conducting. For more than 20 years he lectured at the University of Oslo. Many of the leading Norwegian choir conductors of today have been his students.
In his younger days, he had piano students. And later, his home was often frequented by persons interested in his works and Norwegian contemporary music in general.
He gave guest lectures in choir conducting, his own works and Norwegian contemporary music in many places in the world, including Europe and the USA, the Far East and in Argentina where he was appointed professor in Music at Mendoza University.
He lectured in the USA for one year (fall 1968 at Berea College, Kentucky and winter/spring 1969 at Augsburg College, Minneapolis).
Honors and honorary posts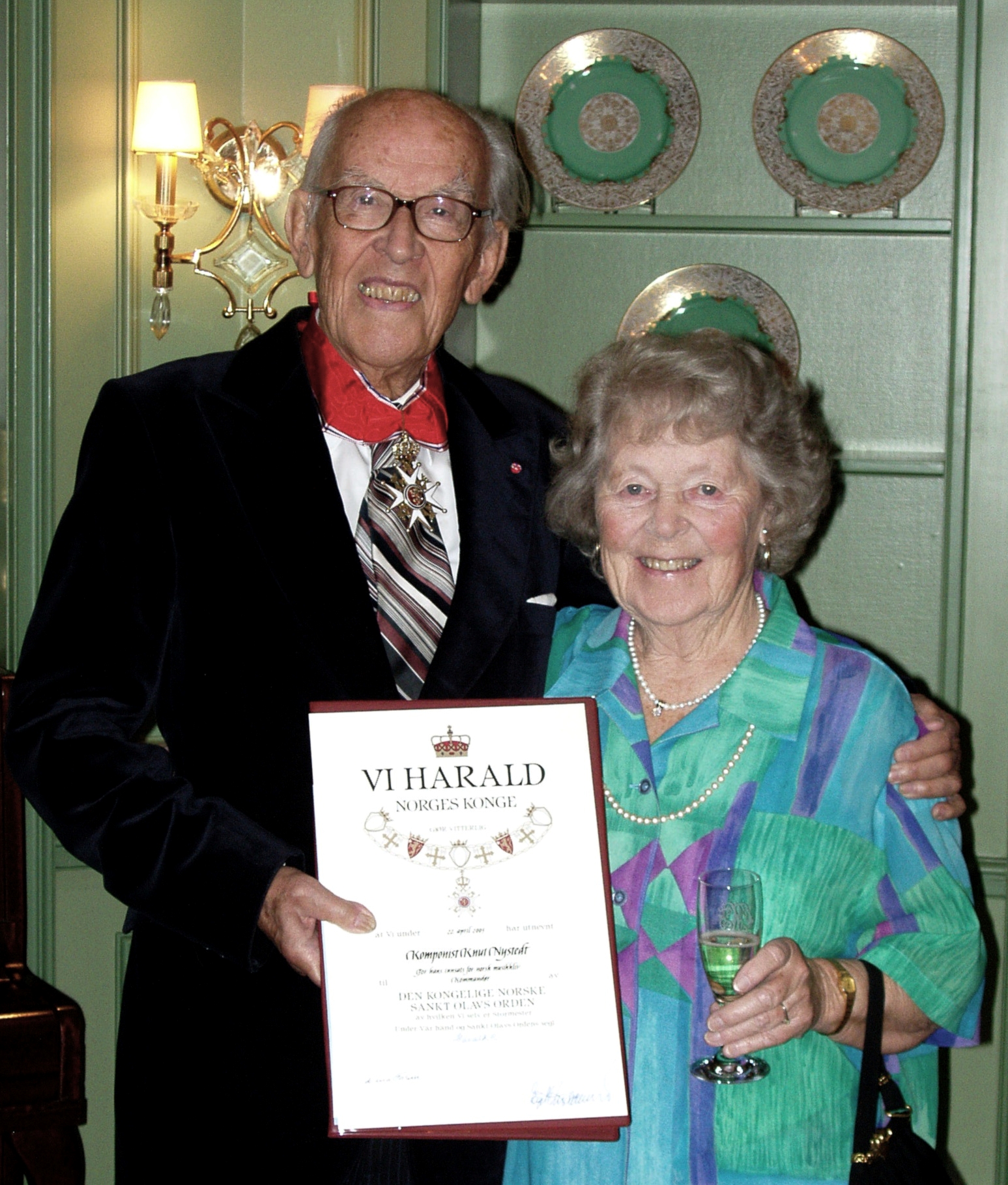 Knut Nystedt held several honorary posts. Among others, he was 22 years on the board of the Norwegian Society of Composers, where he also was an honorary member. He was a member of the board of TONO, which is the Norwegian collection society/performing rights organization for 11 years. He was also Honorary professor at the Mendoza University, Argentina.
He received 25 honors, among others Commander of St. Olav by his Majesty King Harald V of Norway.
Honorary posts and positions in societies
Oslo Philharmonic Program board
Chairman of Society of Oslo organists in 10 years, 1955-1965
Chairman of Musikkutvalget in Norwegian Society for organist 1962-1968
In the 60's, member of Nordisk kirkemusikerråd
Member of the board of Ny Musikk 1959-1963
Member of the board of the Norwegian Society of Composers 1963-1975
Chairman in Det Sakkyndige råd in the Norwegian Society of Composers 1964-1968, member in 22 years: 1953-1985
Member of the board of TONO 1974-1985
Member of the board of Rikskonsertene (Concerts Norway) 1967-1972
Member of Statens Kunstnerråd in the 1970s
Member of Statens Musikkråd in the 1970s
Honors and Awards
1943 1. prize for Introductione & Passacaglia for organ. Komponistforeningens 25 years aniversary
1948 The Land of Suspence, orchestra. Harald Lyches competition for composers
1953 legat from Wilhelm Hansens Musikforlag, Denmark
1953 Solsong. 1. prize from Norges Sangerlag
1957 Kritikerprisen to The Norwegian Soloists' Choir
1962 Oslo bys stipendium
1963 Harriet Cohens gold medal to The Norwegian Soloists' Choir
1965 De Profundis, The Work of the Year
1966 St. Olavs Orden by His Majesty King Olav V
1975 Distinguished Service Citation from Augsburg College for «the great influence on innovative choral composition in the United States»
1975 Storkorset of "Den hæse ravns orden" by the Norwegian Soloists' Choir.
1976 Member of Honour of Oslo Organistforening
1977 Exsultate. Composer competition for a new organ in Oslo Concert House
1978 Spelemannsprisen
1980 Ichthys for orchestra. The Work of the Year
1980 Kulturrådets music prize
1985 Member of Honour of Norges Organistforening
1985 Recieved "Statens stipend for eldre fortjente kunstnere" for the rest of his life.
1989 Member of Honour of Fonoko (Norwegian Choir Conductors)
1991 Proffessor of Honour of Mendoza University, Argentina
1991 Member of The Argentinian Academy, appointed by Argentinas president, Carlos Menem.
1993 Lindeman-prisen
1994 Fanny Elsta-prisen by Bergen International Music Festival
1998 Edvards Prize of Honour
2000 Nordiska Kyrkomusikråds Prize of Honour, Finland
2002 Choir Prize of the year by The Norwegian Choir Association
2004 Oslo Bys kunstnerpris (Art prize of Oslo)
2005 Commandor by Den Kongelige Norske Sankt Olavs orden by His Majesty King Harald
2014 Member of Honour of the Norwegian Society of Composers